I know I have talked a lot about meal planning lately. In this blog we are going to talk about how you can eat clean and healthy by some simple meal planning. I am very passionate about this subject because for me, it has been a "live saver." If I didn't pre-plan and precook the majority of my meals on the weekend, I would be left after a busy day, looking for something to eat, and probably coming up with something quick and not so healthy!
I know it may be something that sounds hard to do, but once you get into the routine, it doesn't take long at all and is so beneficial.
So – comment and tell me if it would be helpful for me to do a webinar or Facebook Live that demonstrates some batch cooking ideas for you.
Let's break the common misconceptions when it comes to diet. Sometimes, people tend to skip their meals with the thought that they are going to maintain their diet. Now, you don't have to restrict yourself from eating delicious yet healthy meals. You don't even need to break your budget just to complete one nutritious meal. There are a lot of means and hope these meal planning tips would help! 
List the Essential Nutrients you Need to Keep you Going for the Entire Week 
The list you should make should consist of complete nutrients such as proteins, minerals, vitamins, and antioxidants. In this way, you can determine the right food you need to buy. Categorize the nutrients and write them on the calendar.
Assume that one category is equivalent to one day. 
Search for the Recipes that Contain the Nutrients on the List
Nowadays, it is effortless to look for a particular recipe to help you with your meal planning. Food blogs and cooking videos can help you look for the meal. They give endless ideas of what to cook on a rotational basis.  They are useful especially if you don't have any dish in mind. Ensure you choose a recipe that contains the nutrients in the category. 
Customize Your Recipes so you Can Still Use them in the Upcoming Weeks
You can also customize some of the ingredients, so the flavor of your food suits your taste. If you only eat selected foods, changing some of the ingredients in the recipe allows you to enjoy your meal still. If you have kids at home, you can mix and match the elements you know they'll enjoy. 
It is also helpful if there are foods you are restricted to eat if you have a health condition. If you are allergic to shrimp or crabs, consider other foods rich in omega-3 such as flaxseed oil and leafy green vegetables. In this way, you can still sustain the same mineral needed by your body without risking your health.
If you find a meal easy to prepare, you can still make use of your list in the next days. You can just change some of its ingredients so your family still find them exciting to eat.
Make a Shopping List from the Recipes on your List
Customizing the ingredients and making a shopping list both provide the same benefit. Doing them is helpful if the some of the components are not available in the market. Make sure you have other options, so you will not run out of choices if the food is quite expensive or it is unavailable in the grocery stores. Remember, you don't have to break your budget to do the meal planning. 
To make a budget-friendly shopping list, check if the fruits and vegetables are in the season because they are typically cheaper compared to those that are not. Also, check if some of the ingredients are on sale.
 
Though organic fruits and vegetables are sometimes rare to find, never miss buying them if you got a chance. They're cleaner to eat since they are grown naturally without the use of pesticides. 
Make sure you only buy enough foods based on the serving size of your recipes. Stored foods could lose their nutrients if you keep them for a longer time. 
Store Foods Properly. 
Ensure that you store your groceries correctly to ensure the foods are still fresh whenever you need to cook and eat them. Proper storage is critical, especially for the fruits and vegetables. Make sure you put them in a clean container before placing them in the fridge. Also, remember to keep your freezer at the right temperature so the foods in it will not lose their freshness, flavor, and nutrients. 
Now that you already have these tips, is your calendar ready to make some delighting and healthy meals? Stick to your plan so you will surely enjoy the benefits of eating healthy.
I would love you to join my private Facebook Group for busy and profession woman and entrepreneurs so you can get more recipes and ideas on healthy eating, weight loss and even some shortcuts plus weekly FB live trainings.  >>CLICK TO JOIN<<
---
RECIPE
Personal Pan Veggie Pizza
Serves 2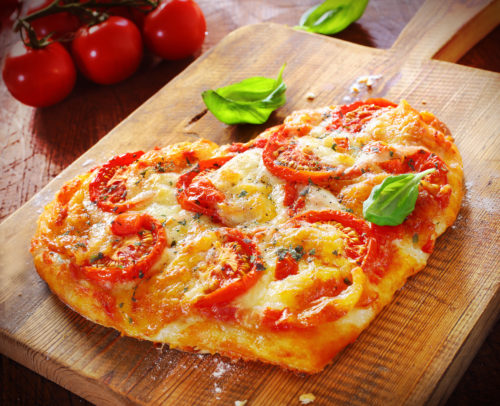 1 tablespoon coconut oil

1 small onion, chopped

1 yellow pepper, chopped

1 cup chopped mushrooms

sea salt and black pepper to taste

1 14.5-ounce can diced tomatoes

1 tablespoon Italian seasoning

12 fresh basil leaves

½ cup feta cheese

Gluten free pizza crust
Preheat the oven to 350° F.
Add coconut oil to a medium pot over medium-high flame. When the oil is melted, add the onion and pepper. Sauté for about 5 minutes until the vegetables start to brown. Add mushrooms and season with sea salt and black pepper. Sauté for an additional 5 minutes. Add diced tomatoes with Italian seasoning. Add more salt and pepper if necessary. Cover and let the sauce simmer for about 5 minutes.
Next place the gluten free pizza crust on a baking sheet. Pour about ¼ cup of the sauce onto each pita. Top with basil leaves and feta cheese. Top with more vegetables and/or protein of choice, if desired. Place in the oven for about 10 minutes until the pita is crispy.